Revell Track Layout Software for Windows
Summary
In 2020, I searched for computer software to help design track layouts. I found several and Tracker 2000 actually supported Revell/Riggin track. I used it for a while but it didn't have support for the various apron pieces that are part of the Revell system. I also wanted to be able to easily compare tracks without loading them separately. Finally, I wanted to work on several tracks at once and keep track of the total pieces in use - I was olanning to have several layouts available for a new year's Day racing event at our church.
So, I decided to write my own that dealt specifically with the Revell system. Please be aware that this program is a work-in-progress and there are several features yet to be added.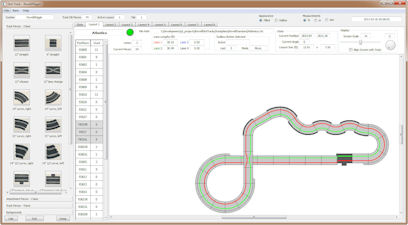 The Software - RevellSlotTracks (It's FreeWare)
The zip file containing the software and supporting files can be downloaded here.
There is no elegant installation procedure, everything that is needed is included in the zip file. There in no uninstall procedure either, you just delete the folder and it is all gone.
Anyway, the 'redneck' install is to move/copy the RevellSlotTracks folder inside the zip file to a location on your computer, like 'My Documents'. The program cannot be run from within the zip file.
Once the files are copied to your folder, the program can be run by navigating to the RevellSlotTracks folder and then to RevellSlotTracks/bin/RevellSlotTracks.exe - double click that file and the program should start.
The easiest way to run the program is to navigate to the EXE file as above but just click once to select it. Now right click and select 'Create shortcut' from the menu. This will generate a new file - 'RevellSlotTracks.exe - Shortcut' in that same folder. Next, select the new shortcut file, right click and select 'cut'. Position your mouse pointer onto the desktop and right-click again. This time select 'Paste" and the shortcut should appear on the desktop. It will have the entire shortcut name so I usually like to right-click on the desktop shortcut and select 'Rename'. I trim it down to just display 'RevellSlotTracks' but you can change it as you desire. Finally, to run the program, merely double-click the desktop shortcut and the program should run.
There is an incomplete tutorial available after the program is running - check the 'Help' tab on the menu bar.
TBD - 'how to' videos on program operation.
---
This page updated 14 December 2022