Cleaning Revell Slot Car Track Pieces
Since Revell slot racing sets and accessories are no longer manufactured, you must buy used equipment. There are sets and pieces that regularly appear in garage sales, estate sales, and on eBay.
The quality of the track pieces varies widely from unused (new old stock) to very grimy and dirty. The key is finding pieces that are not broken or cracked - check the connection tabs for problems here. Also try to find pieces with minimal rust on the rails.
Once you acquire a set or indiviadual pieces, you will probably need to clean them. Revell expert Dewann Clark has put together some very useful videos on track cleaning. He also has a good video for assembling and de-assembling track. Dewann specializes in 4-lane Revell layouts. All of his videos are on the Videos page.
Dewann originally used a completely dry method of cleaning track pieces. He has put together a cleaning kit which is described in the first cleaning video.
Micro-fiber cloth
3M Scouring pad (red/burgundy) cut down to 1" x 1.5" pieces
"Detail brush" - hard bristle brush with angled handle
Mr. Clean pads
One item that Dewann discovered later was DeoxIT D100L: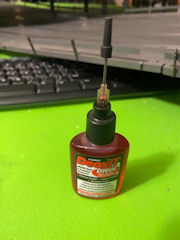 "Adding a couple of drops of this deoxidizing solution to the steel rails prior to using the 3M pads cuts about 20% off the time and effort needed to clean the rails and tends to restore many RUSTED rails back to like new condition!"
Summary of the cleaning steps (all shown in the second video)
add drops of de-oxidizing solution (DeoxIT D100L) on rails
use 3M pad on end of brush to clean the rails
using Mr. Clean pad, scrape the gray track surface
wipe surface with micro-fiber cloth
clean slot/groove using micro-fiber cloth and scissors
Some Alternate Cleaning Steps
Dewann's method is completely dry (except for the DeoxIT). On really dirty/grimy track pieces, I like to start by using Super Clean and paper towels on the gray areas. This is a 'wet' step but may be necessary on some really bad track pieces.
On the slot/groove cleaning step, I use a Q-Tip with maybe a drop of Super Clean if the slot is just plain yucky.
Dewann's Track Cleaning Kit and His "Tweasers"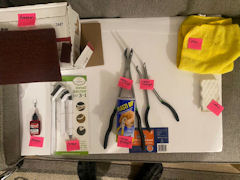 | Location in image | Item | Dewann's source |
| --- | --- | --- |
| upper left | 3M Scouring pad | Amazon |
| upper right | Micro-fiber cloth | Costco |
| Lower left | DeoxIT D100L | Amazon |
| Lower left center | Detail brush set | Amazon |
| Center | Straight tip tongs | Harbor Freight |
| Center | Bent tip tongs | Harbor Freight |
| Bottom center | Plasti Dip (for tong tips) | Harbor Freight |
| right center | Mr. Clean pad | Costco |
Track Cleaning Videos
See the videos page for Dewann's track cleaning videos.
This page updated 14 December 2022